LEO Partners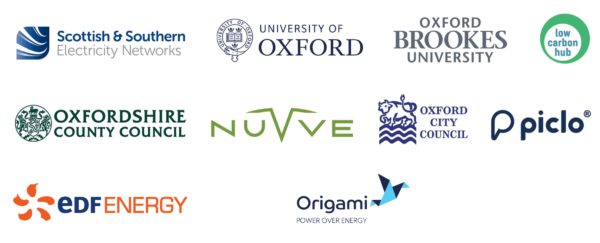 Low Carbon Hub is a leading social enterprise that will develop and manage a portfolio of local generation and demand projects.
University of Oxford and Oxford Brookes University, who will collect and analyse data to create a new model for mapping and planning the local energy system.
Oxford City Council and Oxfordshire County Council will provide key infrastructure including intelligent street lighting, EV chargers and heat networks.
Piclo has developed the Piclo Flex, an independent marketplace for trading energy flexibility services online.
Nuuve is the global leader in vehicle-to-grid (V2G) technology and will provide
V2G and smart EV chargers.
EDF is a gas and electricity supplier, that will offer innovative energy services to customers.
Origami Energy provides market knowledge and is a key delivery partner for LEO. Origami is working to enable a green energy world, powered by smart technology
Scottish and Southern Electricity Networks (SSEN) operates and maintains the electricity distribution network for Oxford, and over 3.8 million homes and businesses across central southern England and northern Scotland, the Mull of Kintyre and the Scottish islands. SSEN is already running another ground-breaking initiative, the TRANSITION Project and on Project LEO will test multiple aspects of the DSO model to balance local supply and demand.
SSEN will demonstrate a neutral 'Market Integrator' that provides real-time information to allow a local energy market place to function effectively whilst maintaining network integrity. Three companies  will develop and deploy market platforms for local energy trading and services provision, such as overcoming
grid constraints.
Up to 90 plug-in projects (solar, heat networks, smart neighbourhoods, micro-grids, EV and transport hubs, new housing developments and large flexible loads) will demonstrate new models for DER investment.
LEO is continually improved through the collection and analysis of temporal and spatial data to provide insights to the team and to inform the County's energy strategy. This strong evidence base will enable rapid rollout across the UK and beyond.