A look into Project LEO's Theory of Change
A look into Project LEO's Theory of change
At first look, the most recent iteration of the Project LEO Theory of Change (TOC) is an incredibly complex diagram with many different stages and activities, which it is. However, it is also a handy tool to explain the drivers, elements and objectives that make up the whole of Project LEO. It also represents a broad overview mapping of where each piece sits within the overall LEO universe allowing narratives to emerge communicating LEO's purpose and goals.
With a project with as many diverse and 'moving parts' as LEO, it's vital that we are able to take a step back and see how every part fits and interacts with one another in a flow. Over the duration of Project LEO to date, we have created several versions of this document in an attempt to depict an overview of the project and look at where each element is working towards achieving our objectives.
It is, at the very least, a useful tool to explain the complex nature of Project LEO to an external audience and a map that highlights the importance of each activity, partner and asset within the overall picture. It also provides a rationale for the project and helps us to identify risks, key assumptions and the sequence of activities needed to deliver LEO objectives. about before we go on to develop a value proposition for Smart Local Energy Systems.
In this short article, we want to look at the purpose of Project LEO's TOC, how it has been developed and what we can learn from it.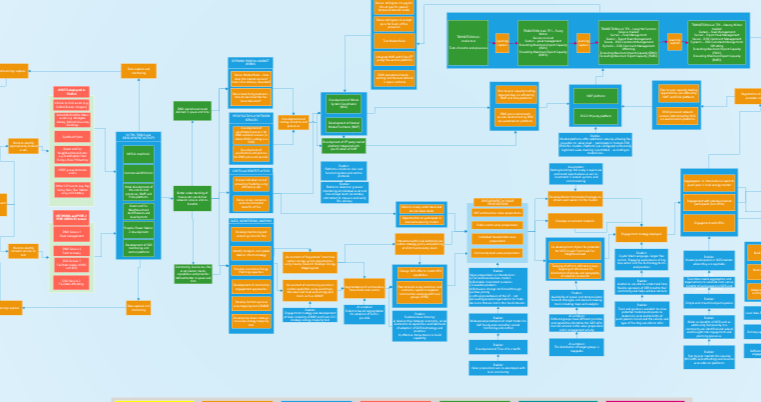 What does it show?
The ToC diagram presents a flow of cause and effect and as such, the contents flow from left to right, with arrows representing how each activity leads to the development of another. Of course, the actual flow of the elements is not completely linear, so we see some arrows representing feedback loops. This is very important to highlight as LEO partners have adopted an 'agile learning approach' within the trials, meaning we start off small and learn by doing, feeding the learnings captured at each stage back into the design of the next round of activity as we go along. Hence the feedback loops in the diagram.
Other important elements to highlight are the 'lines of accountability on either side of the diagram. The elements that are shown outside these lines are ones that LEO on its own can't deliver, but what we aim to contribute towards. So, on the left, we see the drivers – the reasons the LEO trials are taking place. Then, on the right, we see the broader societal outcomes that LEO hopes to contribute towards – the creation of balanced local energy systems which help manage the low voltage network and environmental and societal benefits including more resilient communities and a fairer energy system in which all socio-economic groups can participate and benefit from.
To make the document easier to understand and navigate, each element has been colour coded to help us recognise what part of the overall process they represent. We thought it would be useful to list these segments here along with a short real-life example of how they play a part in Project LEO.
Drivers
Political, social, economic and technical drivers that are extraneous to LEO but drive the direction and scope of LEO activity. E.g. the need to rethink how the low voltage network is managed as a consequence of the steady increase in connection of solar panels, batteries, electric vehicles, heat pumps etc at the grid edge. 
Processes
Key LEO activities and processes. E.g. development of a platform where energy services can be procured and traded.
Enablers and Assumptions
Conditions, tools, and policies that facilitate or enable Project LEO processes to proceed. E.g. the availability of high-quality granular data that makes the system state visible.
Services and Assets
Key flexibility assets developed by Project LEO and by third parties. Key services required. E.g. buildings with large HVAC systems brought under control and capable or reliably delivering increases or decreases in energy demand over specified periods without compromising occupant comfort.
Milestones
Key phases, components and deliverables required to achieve project objectives. E.g. Establishment of the governance and plan for each of the Smart and Fair Neighbourhoods.
Outputs
Key definable outputs of the project – mostly demonstrations – which may or may not lead to certain outcomes beyond the range of Project LEO's control. E.g. Demonstrations of mapping and planning tools.
Outcomes
Outcomes are the broader changes in the energy system that Project LEO is contributing towards but which cannot be delivered by LEO alone. Consequently, outcomes are on the other side of the line of accountability. E.g. Changes in the policy and regulatory framework governing the energy system.
Armed with this understanding of each of the elements that make up the ToC, we can start to navigate it and see where each element fits within the overall picture. In this way, we can see how the various streams of activity are thought to work together to demonstrate what it takes to create a Smart Local Energy System supported by a market for flexibility services.
How was it created?
Project LEO is a unique and groundbreaking undertaking that brings together a wide range of partners, assets, services and community initiatives to give us a better picture of how a viable smart local energy system can be created. From the outset we were aware of the need to carefully map each element of the process, not only to demonstrate their importance but also how each part performs as part of the overall flow.
For that reason, building the ToC has been a highly collaborative and iterative process with the first very basic diagram becoming increasingly complex and detailed through a  6 monthly cycle of reviews from project partners. In a way, this is a 'living' document, as we are continually updating and adding to it as other key parts that make up the success of Project LEO come to light.
How can we use it?
At its most basic level, anyone can use the ToC diagram to get a 'birdseye view' of the entire LEO project and start to understand how each part of it contributes to our end objectives.
It's also a useful tool to start conversations on the purpose of LEO, what are we trying to achieve and the success of each element to contribute to those objectives.
For our partners, the ToC demonstrates each of their vital roles within the overall project and how their assets and services fit into the flow.
It also depicts the complexity of creating a viable smart and flexible energy system, not only in terms of the technical requirements, but the role of people and communities in ensuring that the end product works for everyone is fair and equitable and leaves no one out.
What's next?
As the Project LEO trials continue and we move towards the conclusion of the project, so the ToC will continue to evolve and develop as we introduce an ever more complex range of assets and services. We will continue to test and learn what does and doesn't work and as we do so the ToC diagram will be adapted to reflect this.
The hope is that we can create a functional, interactive digital tool that works in layers to help people either view the project on a basic level, looking at the reasons why it needs to happen, what steps it is taking towards this and its outcomes and successes or to be able to drill down into more complex details of each element, navigating to relevant LEO reports, datasets, learnings, deliverables and responsible people and organisations.
We believe that the Theory of Change holds value for a range of stakeholders and can represent a workable map to demonstrate how flexibility in our energy use is a critical component of the zero-carbon energy system of the future.
Publication date;
7th December 2022