On Thursday 23 February, representatives from Project LEO (Local Energy Oxfordshire), its supporters, partners and members of Oxfordshire communities attended a celebration of the success of this groundbreaking, collaborative innovation project at Oxford Town Hall.
The previous day, an event in Westminster, hosted by Chair of the independent Net Zero Review, Chris Skidmore MP, who chaired the review, launched the Project LEO report to a national audience, highlighting the role of energy flexibility in meeting the UK's net zero goals.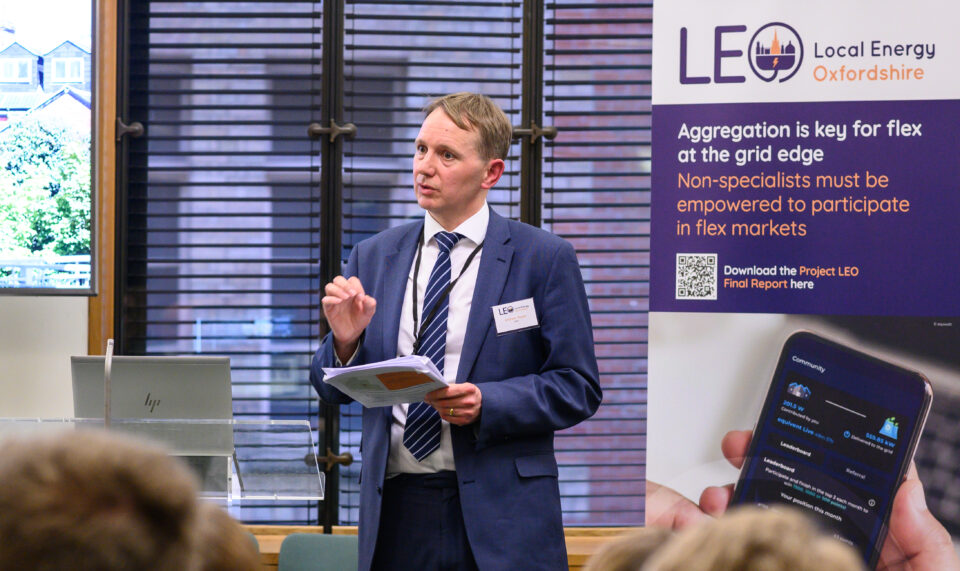 This final report which Project LEO issued this week brings together the findings of four years of trials around Oxfordshire that can now provide a blueprint for the energy system of the future, one that brings value to people, communities and the energy system as a whole.
The success of Project LEO is due to the work and dedication of many partner organisations, including Scottish and Southern Energy Networks, Low Carbon Hub, the University of Oxford, Oxford Brookes University, Oxfordshire County Council and Oxford City Council. But most importantly, thanks are owed to the residents and communities of Oxfordshire who engaged in the Smart and Fair Neighbourhood trials for the important learnings about flexibility at the grid edge, in the low-voltage parts of the network we now have to develop a better energy system UK-wide.
Project LEO makes an essential contribution towards finding out what works and what does not when it comes to changing the way we generate, supply, store and use energy in order to decarbonise our energy system and make the transition to net zero in a fair and equitable manner. While there are many years of work ahead, at these events and in the report, we celebrated our successes and insights. Importantly, partners provided some vital recommendations for what the net zero energy system of the future should look like.
The Project LEO trials were complex and innovative and included:
Smart Fair Neighbourhood Trials – a series of trials to demonstrate how flexibility services can sit at the heart of a smarter, low-carbon, locally balanced energy system
Energy Asset Trials – looking at the potential of energy assets, such as solar panels, batteries and hydro plants to deliver energy flexibly.
Market Feasibility Trials – determining the value of energy flexibility and creating a marketplace to trade energy supply so that everyone benefits.
The final report that was launched in Westminster and Oxford this week summarises the massive amount of work carried out by all partners and participants and shares the key findings with the energy industry, regulators and policymakers. It outlines thirteen key messages, as well as identifying important barriers that remain to be overcome. You can read more about the findings and download the report here.
At the Westminster event, Chris Skidmore said:
"Project LEO is a ground-breaking trial which has advanced our collective thinking on how to make decarbonisation feasible and beneficial at the local level. Our electricity networks lie at the heart of some of the most difficult problems that must be solved if the UK is to meet its net zero targets and Project LEO has made a massive contribution to identifying and proposing solutions for those challenges.
"Making maximum use of the infrastructure we have in place is vital, but network operators must also be allowed to anticipate future demand and invest ahead of need, increasing the capacity of their network. Delays in expanding grid capacity mean cheap, low carbon power, and the goodwill of engaged communities risks being wasted."
The local event in Oxfordshire was attended by many of the participants in the trials who joined together to celebrate their part in making such an exciting and important project happen.
Lord Mayor of Oxford, Cllr James Fry, was in attendance and Melanie Bryce, Oxfordshire Programme Director at Scottish and Southern Electricity Networks (SSEN), spoke about SSEN's participation. You can read her summary of the event here.
Mairi Brookes from Low Carbon Hub also spoke at the event, which featured catering from Elegant Catering and cakes from local bakery Happy Cakes, with the celebratory cake being cut by Prof Malcolm McCulloch, of University of Oxford, and Principal Investigator for Project LEO.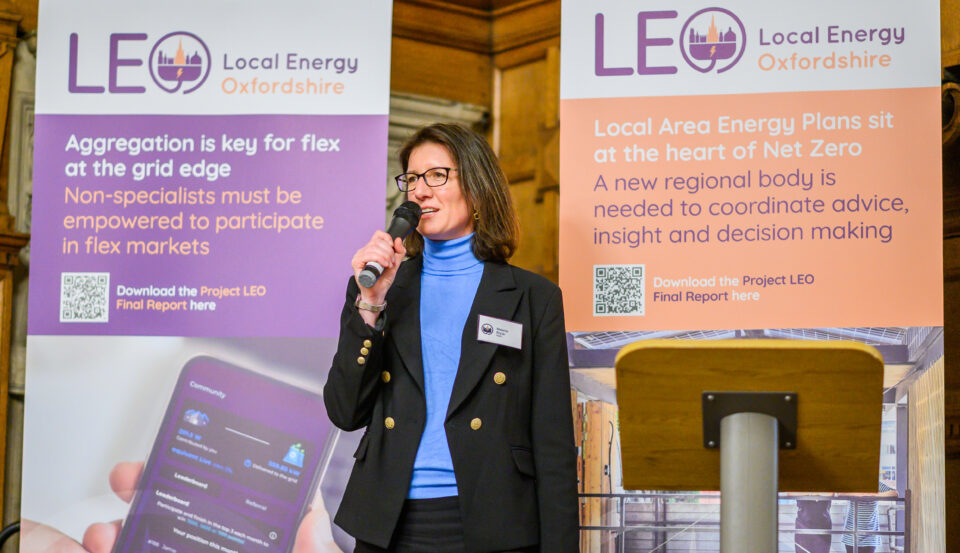 Both of these events in London and Oxford were a fitting celebration of the successes, learnings and invaluable insights of Project LEO and the incredible collaboration and hard work of everyone involved over the past four years. In the words of Mel Bryce of SSEN:
"Project LEO was ambitious in its scope from the start, taking a whole systems' approach at a local level and trialling how local assets, such as buildings and local communities can use smart, clean technologies to help balance the local network. In doing so we identified benefits to residents, local communities, energy generators and electricity networks, but we also found ways in which the policy and regulatory frameworks could better support the transition to net zero.
"Our report published today sets out the measures to speed progress on technical, commercial, social and regulatory areas. To deliver a decarbonised electricity system in just a dozen years, I encourage policymakers to be bold: take action now to ensure the knowledge, skills and markets are in place. I look forward to building on our learnings to help embed LEO learnings in the UK's net zero future."
---
All photographs taken by Richard Cave.
Publication date;
27th February 2023