Explaining the People's Power Station 2.0
Explaining the People's Power Station 2.0
When we picture a power station, what generally springs to mind is a massive structure full of complex technical equipment that produces electricity. The People's Power Station 2.0 is a bit different, so we wanted to take the opportunity to explain what it is, why it's invaluable to the work of Project LEO and Low Carbon Hub, and showcase some of its practical functions.
What is the People's Power Station?
As Project LEO got underway, it became clear that there were a number of interface issues to be solved, in particular around renewable technology and controlling these systems. The People's Power Station 2.0 (PPS2.0) was designed and created to solve them. It is in fact a cloud-based digital platform and is crucial to the smart operation of their portfolio of renewable assets and enabling the running of Smart Community Energy Schemes.
In this way, it can actually be defined as two separate systems:
One that is used to monitor and control the Low Carbon Hub portfolio of assets as well as controlling heat pumps in our Smart Flex Heat Pump trial – this system is designed and operated by Smarter Grid Solutions.
One that focuses on monitoring and controlling domestic assets in our Osney Supercharge trial, to enable households and businesses to coordinate their combined energy use, storage and generation in a cleaner, cheaper and more equitable way for their community. This system is designed and operated by Fractal Networks.
The simple reason for having two separate systems that form PPS2.0 is that having started looking at one system, we realised that a platform serving households and businesses with smaller distributed energy resources (e.g. solar panels, domestic batteries or household appliances) would benefit from a different approach from a platform that serves larger distributed energy resources (DERs) such as large scale renewable energy generation sites such as solar parks.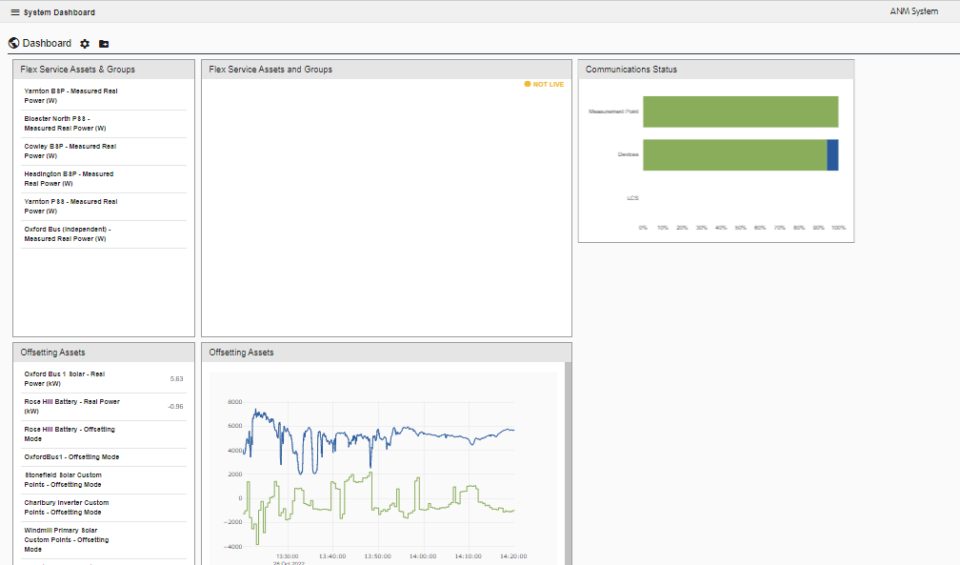 What is the purpose of PPS2.0?
The key purpose of PPS2.0 is to develop a digital tool that will help accelerate the transition to a net-zero energy system. In order to create a more flexible and smart energy system, new digital platforms will be needed to help the Smart Community Energy Systems of the future to monitor, combine and control their energy use, storage and generation. The overall goal is to change our current top-down (fossil-fuel led) energy system to a more flexible and smart approach that will benefit people and the planet.
While this goal is easy to understand, the technical functions of PPS 2.0 are a little more complicated to explain. Below, we set out some of the key jobs it is used for, why they are important and some real-life examples of how they are working in the Project LEO trials.
What are the functions?
PPS2.0 has been created to perform a number of key functions. To help build an understanding of what we can achieve through PPS2.0, we've outlined these below with some examples of them in practice.
Monitoring in real time the electricity use, storage or export for a home, business or renewable generation site. The data gathered from domestic or commercial partners involved in our trials is vital to helping us understand the effects of any of the actions we're testing. We can see generation and usage peaks and use this information to improve our operations.
PPS2.0 also monitors what specific distributed energy resources (DERs; e.g. rooftop solar panels, batteries, heat pumps, electric cars, hydropower stations or ground mount solar parks etc.) are up to (how much electricity they use, store or generate). This data is invaluable as it allows us to understand how each of these resources can contribute to our energy system. Using this data, we can learn how we can optimise the performance of these energy generation assets.
A good example of this is the Battery at Rose Hill Primary School: We can see when the battery is charging from the on-site solar PV, when the battery is discharging energy to the school and when the battery is delivering energy flexibility. This information not only helps with billing (Low Carbon Hub bills the school for the clean electricity it uses on site, at a discount price to the national grid) but helps us determine whether small-scale community batteries such as this which also deliver flexibility, are a valid business model going forward.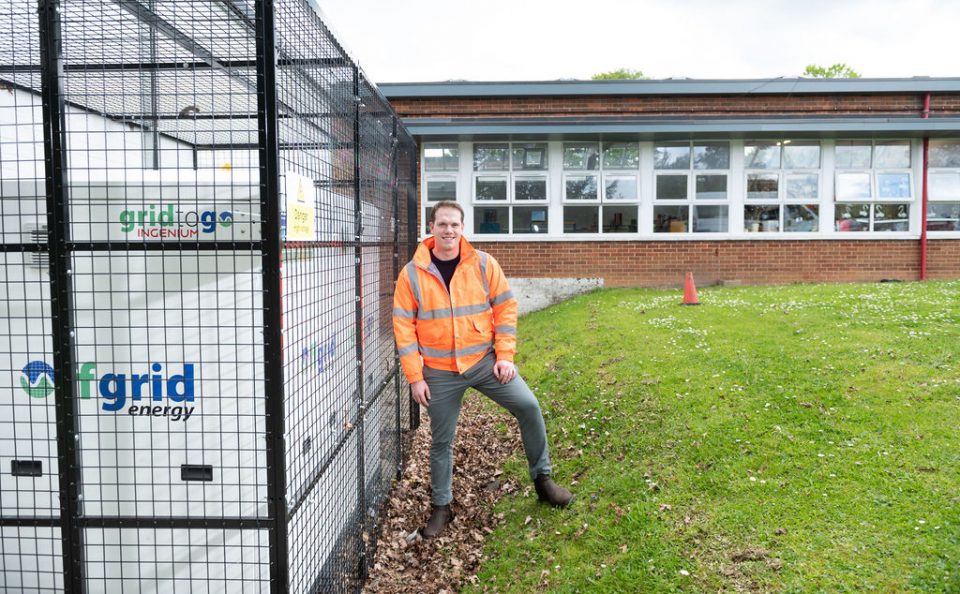 Remote, automated control of what DERs do (i.e. how much they generate/export, store or consume electricity) using real-time control or pre-planned schedules. This function allows PPS2.0 to turn up or down energy generation, use or storage in order to deliver flexibility services 'behind the meter' at the grid edge.
Rose Hill Battery has been delivering all the new flexibility services the DSO (SSEN) has been trialling in Project LEO and Low Carbon Hub's Operations Manager has been able to control the battery remotely using PPS. PPS2.0 is also automating the process of delivering flexibility (there are nine steps involved), so that less time needs to go into scheduling assets and eventually the participation of Rose Hill battery in the flexibility markets will not require any manual input. This helps make it commercially viable for smaller energy assets, such as this battery or domestic heat pumps, to participate in flexible energy systems.
Storing historical data about the use of electricity by the DERs connected to the platforms. For example, an energy network operator like SSEN can check whether one of the Low Carbon Hub assets correctly delivered a service it was contracted to deliver in a flexibility auction. This is important to measure and demonstrate the effectiveness of these resources for delivering flexibility.
Data stored by PPS2.0 from monitoring the Rose Hill battery on a minute-by-minute basis is important for providing proof of delivery for flexibility services. The Flexibility Services Agreement requires Low Carbon Hub to submit 8 weeks of energy data for assets that have participated in flexibility.
Integrating with other asset control platforms in order to monitor DERs and/or control those DERs.
To give an example of this, PPS2.0 is integrating with the platform that controls Sandford Hydro, which was created by Andritz, an Austrian company. Low Carbon Hub has been working with them this summer to get PPS2.0 and their platform to communicate with each other. Low Carbon Hub aims to have the integration complete by November 2022. By integrating with other platforms on PPS2.0 it means:
the Operations Manager does not need to go into each independent platform to schedule assets for flexibility;
the Operations Manager will not need to manually participate (i.e complete the nine steps) as the assets will be on PPS2.0 and it will be automated.
This reduces the costs involved in delivering flexibility and therefore makes it easier for smaller renewable energy assets to connect and participate in markets.
PPS2.0 performs many roles and these will continue to develop over time as Project LEO, Low Carbon Hub and other partners further our understanding of how digital platforms like this can play a key role in the transition to a zero carbon energy system and benefit people, the planet and communities.
… And why the '2.0'?
Low Carbon Hub developed an online map of renewable energy and energy efficiency projects across Oxfordshire, to illustrate the scale of the work happening. This digital platform has grown out of this work. We liked the name so much, we kept it!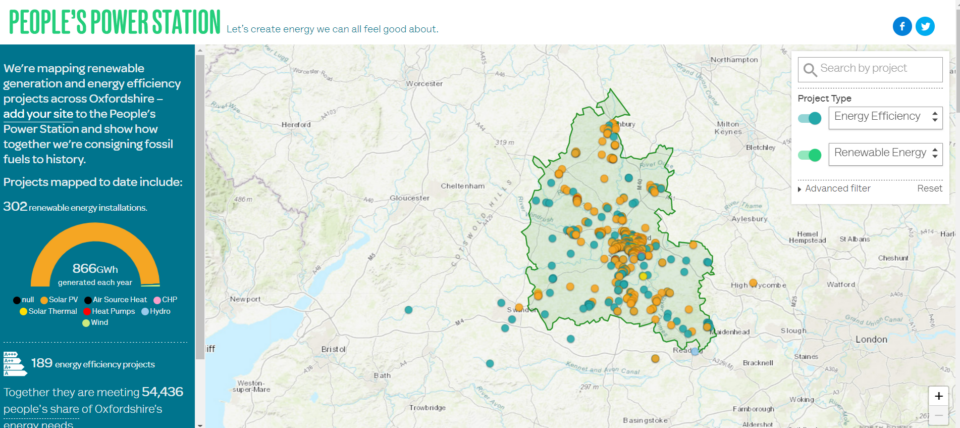 Publication date;
26th October 2022