Welcoming Equiwatt as a new partner
The Project LEO team were delighted recently to welcome a new partner that will provide innovative, smart technology to help us to test the impact of energy reduction on our local electricity network.
As we continue to feel the effects of the energy and cost of living crises and the recent cold snap made many households think about balancing their energy usage, we are very excited about the potential for our new partnership with equiwatt, a pioneering servicethat not only helps people to reduce their energy usage at peak times, but that also inspires and rewards them for doing it!
What is equiwatt?
The most simple explanation is that equiwatt is a free smartphone app that rewards homes for reducing their peak-time electricity usage as well as helping them reduce their carbon emissions. This model fits snugly into the scope of the Project LEO trials, where we are looking at a number of ways to create a smarter and more flexible energy system for the future.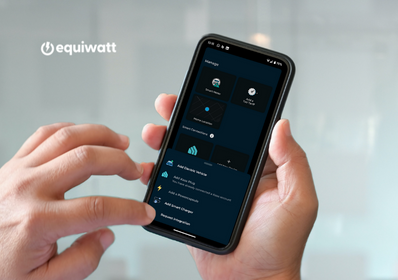 How does it work?
There are a number of facets to the equiwatt energy management service and the app, however, at the most basic level, the app connects with smart meters, other smart home technology and electric vehicles to help householders to reduce electricity usage at specific 'peak times' of the day. This helps to relieve pressure on the grid and avoid the need for polluting fossil fuelled power stations that are called on to meet demand.
Users receive notifications via the free app to take part in energy saving events, called 'equivents' that happen 2-3 times a week for up to an hour at a time, during which they are encouraged to switch off or avoid the use of high power consuming appliances or electric vehicle charging. Users also have the option to automate this switch off of appliances and EV charging via the app.
The timings of the events are based on a number of considerations including pricing, the demand on the grid and carbon intensity. Notifications to reduce peak energy can happen at any time of the day but it is typically between 4-8pm. The kinds of appliances that are typically managed during these events are heaters, tumble driers, fridge freezers or dishwashers, but the app can also manage the charging of electric vehicles and can turn charging on and off at peak times.
equiwatt is also an official provider to the National Grid ESO as part of their new Demand Flexibility Service (DFS), so users can also benefit from rewards for taking part in these events. Users will get at least 24 hours notice for these events and they will be invited to opt in and take part by switch off or avoiding theuse of high-energy appliances duringthat time.
Once an equivent is over, theapp will instantly tell you how much energy you saved and your impact on CO2 emissions. For anyone connected for automated participation, your appliances will beturn back on. equiwatt has successfully run over 300 of these energy-saving events over the last couple of years.
What are the benefits of taking part?
Taking part in the equiwatt energy-saving events really are win-win-win for users! In the first instance, active users are reducing their peak energy usage and the voucher rewards they earn will have a positive impact on their household bills at a time when this is a big worry for many people.
equiwatt is also an official provider to the National Grid ESO ESA as part of their new Demand Flexibility Service (DFS), so users can also benefit from rewards for taking part. Users will get at least 24 hours notice of DFS equivents and will be invited to opt in for each individual event.
But aside from the rewards on offer, users are also getting educated about energy efficiency, learning the benefits of switching off high-usage appliances at key times and as such, they are playing their part in the development of a smart, local energy system.
There are also obvious environmental benefits, the more people who can be educated about energy efficiency and minimise their use of energy-guzzling appliances at the right time of the day, the bigger savings we can make on carbon emissions – something that is vital as we look to our net-zero future.
And for the local electricity suppliers and the national grid, these energy-saving events have a strong benefit in cutting demand on the grid at peak times, avoiding any potential overloads and giving them more flexibility.
Finally, equiwatt users also gain rewards for taking part. For each event they participate in, they receive points according tothe energy saved. Points can then be redeemed for vouchers for a wide range of well-known retailers, smart home gifts or donated to good causes. And with many participants earning the equivalent of up to £200 per annum in rewards, it's another great reason to be a part of it. There are extra incentives such as leaderboards and spot prizes for participation, so there is also an element of fun to the energy saving as well as the ability to refer friends and family to earn bonus rewards!
How does equiwatt fit into the Project LEO trials?
As we mentioned at the beginning of this article, it's easy to see how the equiwatt app fits into the Project LEO trials and we will be working with equiwatt to run some highly localised energy-saving trials that will be looking at the value of these events to the local electricity grid and how flexible users can be in reducing their energy usage at times when demand is high. We'll also be gaining a picture of how technology such as the app, smart meters smart plugs and smart EV charging will play a vital role in the development of smart, local energy systems.
And last but not least, we will get an understanding of the type of incentives that households respond best to when being asked to reduce their energy use as well asthe best way to to help them participate both individually and collectively as a community.
Can I take part?
While the Project LEO trials are only taking place in some neighbourhoods in Oxfordshire, the equiwatt app is free to download for anyone in the UK, with the only stipulation for use being that you have a smart meter that takes half-hourly readings..
The equiwatt app is good for anyone who:
Is worried about their energy bills and is actively looking for ways to reduce them
Wants to learn more about their energy usage and the best ways to cut this back
Wants to reduce their household emissions
Has an electric vehicle and wants to be smarter with charging it
Likes to earn rewards
You can find out more about equiwatt and learn how to download the app and take part via their website.

We look forward to bringing you more updates on the trials we are running here in Oxfordshire with equiwatt, what we have learned and how it has helped us to better understand smart energy demand for homes as part of a smart local energy system.
Publication date;
16th January 2023