Help prepare the way for a zero carbon future in Eynsham
Take part in the upcoming Neighbourhood Plan consultation
Eynsham Neighbourhood Plan
The Parish Council in Eynsham is in the process of updating the 2018 Neighbourhood Plan. This is a vital opportunity for the whole community to shape their future and ensure that a sustainable energy policy is included.
If you live in the Eynsham parish area you can have your say and take part in the consultation on the Neighbourhood Plan.
We need your help to make sure that tackling climate change is at the heart of the new plan.
The Eynsham Smart and Fair Futures team have been busy building a Zero Carbon Energy Action Plan. This plan clearly lays out the actions that need to be taken by 2030 to hit our net zero carbon targets and achieve an improved and more sustainable lifestyle for members of the Eynsham community. More news on the Plan will be shared in due course.
The team are calling on all residents of the Eynsham parish area to take part in the upcoming consultation to ensure that cutting carbon emissions locally and ensuring a fair transition to net zero is included.
Have your say in the Neighbourhood Plan Consultation
Dates for your diary:
The first drop-in event takes place on:
Saturday 26 March 2022, 9.30am to 1pm at Eynsham Village Hall
Look out for further opportunities to have your say on the GreenTEA website .
Some of the actions from the Zero Carbon Energy Action Plan: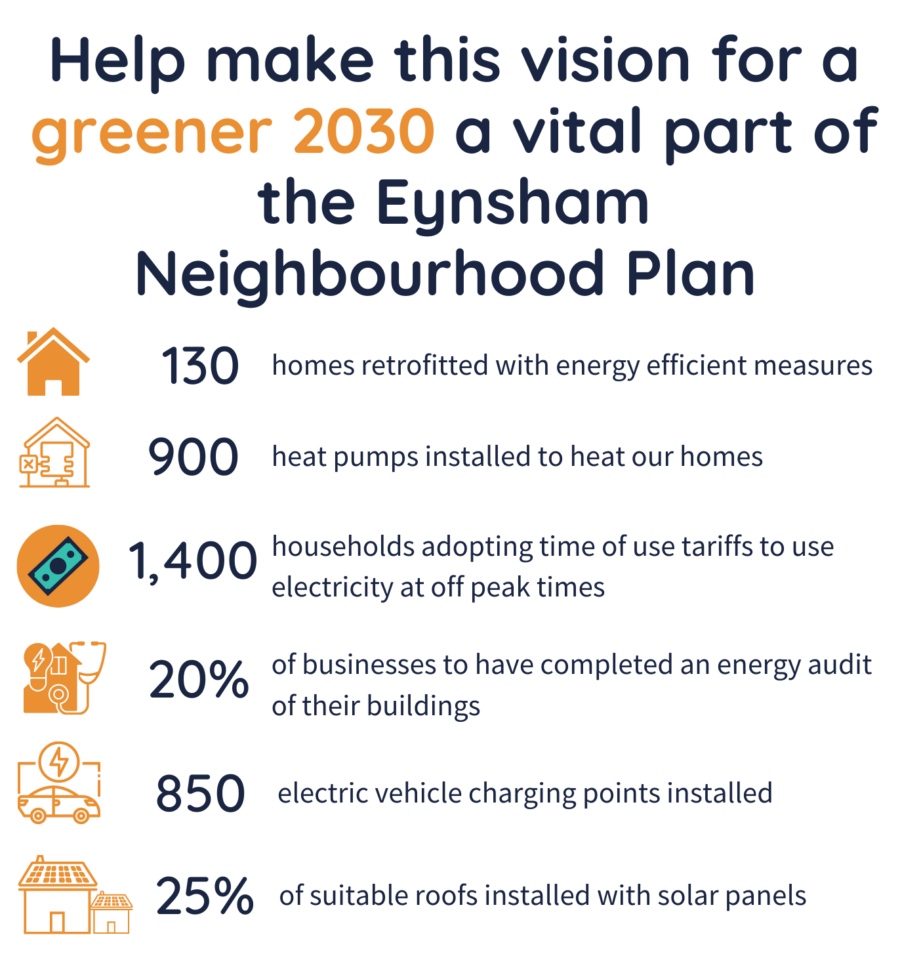 The Zero Carbon Energy Action Plan is part of the Eynsham Smart and Fair Futures trial. Read more about the trial.

*Our plan covers the Eynsham 'Primary Distribution Area' which includes Eynsham, Freeland, South Leigh and the Hanboroughs. It is part of Project LEO (Local Energy Oxfordshire), an innovation project looking at how to accelerate the transition to net zero.
Publication date;
23rd March 2022