Low Carbon Hub raise £1.5 million of new investment for a better energy future
Low Carbon Hub raise £1.5 million of new investment for a better energy future
In March 2020 the Low Carbon Hub opened their Community Energy Fund to new investment on the ethical investment platform Ethex. They had a target raise of £1.5 million to support local projects tackling climate change. They're thrilled to announce that on the evening of Wednesday 9 June they reached this target of £1.5 million of investment – 24 hours before the official closing date.
The Low Carbon Hub has been absolutely blown away with the huge amount of interest received in investing in this round of the Community Energy Fund, especially over the past week. This has meant that they've had to close the Community Energy Fund a day early. However, they do anticipate being able to reopen the Fund soon, as they have a pipeline of upcoming renewable energy projects which will require funding – so if you were thinking of investing but didn't get the chance this time, there will be further opportunities.
What is the Community Energy Fund?
The Community Energy Fund is the investment opportunity that puts investors' money to work delivering local projects to tackle climate change, and pays them interest in return for their support.
Since its inception in 2018, the Low Carbon Hub has already raised over £1.5 million through the Community Energy Fund, bringing the total amount invested to almost £6 million, by over 1,000 investors. 100% of the surplus made from selling renewable energy is used to support further community action on climate change. Over £500,000 has been donated since the Hub's inception in 2011.
What will the £1.5 million raised be put towards?
The money invested in the fund is used to grow the Low Carbon Hub's portfolio of community renewable energy projects in Oxfordshire, increasing the generation of green energy and to deliver ground-breaking collaborative partnerships which are accelerating the transition to a zero carbon energy system.
The £1.5 million raised in this round of the Community Energy Fund will be used for two key purposes:
Continue to grow our portfolio of renewable energy projects in Oxfordshire, including rooftop solar PV installations and potential ground mount solar sites as part of the Local Energy Oxfordshire (LEO) project .
Replace £200,000 of debt funding in Sandford Hydro– a short-term loan which was used to part-fund the construction.

"I am a great supporter of community energy and the Low Carbon Hub. For this reason, when I was elected as the Lord Mayor of Oxford in 2019, I made Low Carbon Hub one of my selected good causes. But, in a personal capacity, I am also a social impact investor and want my money to benefit people and planet. That is why I choose to invest in the Community Energy Fund." – Craig Simmons, Lord Mayor of Oxford and Low Carbon Hub Investor
"I invested for two reasons. Firstly, because there has never been a more important time than now to come together as a community to tackle the climate crisis. Second, because the Low Carbon Hub is exceptional – a rare combination of vision, courage, technical competence and a determination for fairness across our community as we accelerate this transition together." – Anthony Simpson, Low Carbon Hub investor
"It's fantastic to see the appeal that this Low Carbon Hub investment raise has had with everyday people who want to use their money to deliver an environmental, social and financial impact. Organisations like Low Carbon Hub are driving innovation across the renewable energy sector and show how assets that create shared value can be scaled to deliver the green and equitable future that 91% of the UK population want to see after the Covid 19 pandemic #buildbackbetter" – Lisa Ashford, CEO, Ethex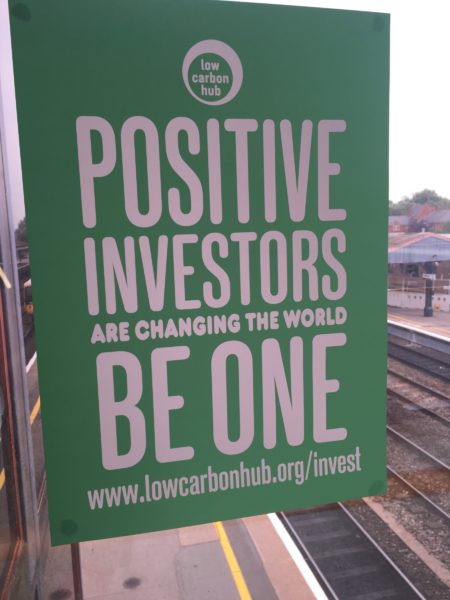 Publication date;
15th June 2020