Project LEO Theory of Change
Theory of Change
Project LEO's Theory of Change (ToC) shows how LEO's activities interact in the fulfilment of its ultimate objectives and linkage between those and the intended outcomes of the project. Underlying assumptions and enablers of each activity are also identified.
The ToC has been iteratively amended and reorganised as the project has progressed and learnings have accumulated. As such, the ToC is an attempt to map the consensus view of how LEO's objectives are being achieved at the time of publication.
Structure of the Theory of Change
The ToC is structured to present a flow of cause and effect with arrows indicating how one process or activity leads to the development of another. In general terms, antecedent processes are to the left so the causal flow goes from left to right. However, reflecting the agile learning processes in the project, there are also feedback loops in the ToC to show how some processes are iterative.
Each block in the ToC is a stage, process or activity. The different kinds of activity or process are indicated with different coloured blocks as follows: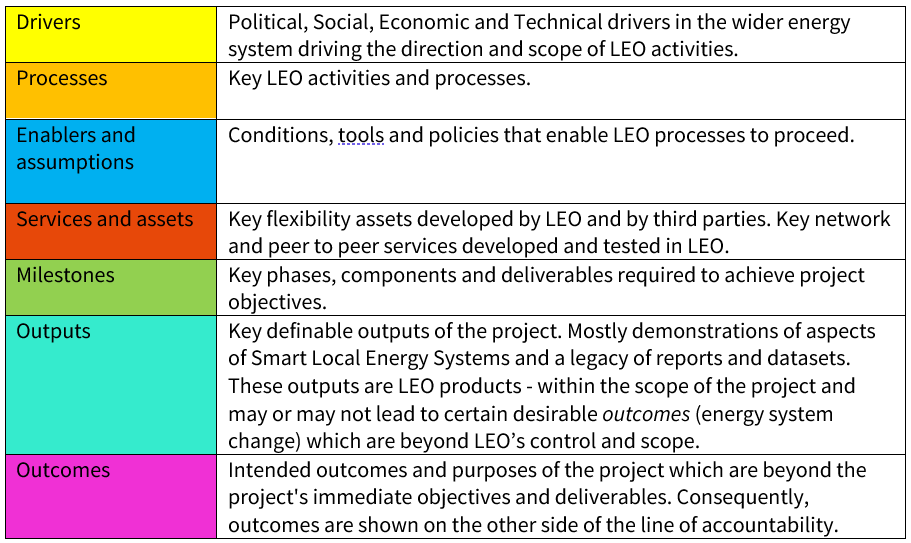 The ToC also shows two "lines of accountability" – one on the left between the drivers for the project and the initial project processes and one to the right to show the boundary between what is a LEO "output" and what is an intended LEO "outcome" – i.e. change that we hope to see in the energy system as a result of Project LEO but which is beyond the scope of LEO activity to deliver.
Publication date;
31st October 2022
Authors;
Nicholas Banks- University of Oxford
Downloads