Do you want to help Rose Hill become the first net zero estate in the country?
Would you like to support the local Junior Youth Club?
Would you like the chance to win £100 to spend at the Co-op?
Then complete the Rose Hill LEMAP energy survey!
To get straight to filling in your survey response, please click on the link below:
Every response helps us understand our area better and explore ways to get to net zero and fight climate change. And because we recognise the time it takes to respond (around 10-15 minutes), we're offering two things:
For every survey submitted, a donation of £2 to the Junior Youth Club (1)
The chance for everyone who completes the survey to win £100 worth of Co-op vouchers in our big prize draw in spring 2022 (2)
About the survey
The survey takes around 15 minutes to complete, and includes around 32 questions, many of which are easy to answer.
Drop-in survey sessions to help you do the survey
As some questions may be harder to answer, we are running drop-in sessions to help people complete the survey.
At a drop-in session, you can sit with a member of the Project LEO team or one of your neighbours from Rose Hill & Iffley Low Carbon, and they will complete the survey with you on a laptop, which they supply.
These sessions are free and do not need to be booked in advance. We simply ask you bring a few bits of information with you (details below).
Find out about upcoming sessions
Upcoming drop-in sessions will be listed here:
10.00-12.30 – Saturday 4 December 2021 at Rose Hill & Iffley Low Carbon Repair Café, Rose Hill Community Centre
10.00-12.30 – Saturday 5 February 2022 at Rose Hill & Iffley Low Carbon Repair Café, Rose Hill Community Centre
What to bring when we meet
If you are planning to attend a drop-in survey session, it would be great if you could bring the following two things with you:
A recent energy bill (for both gas and electricity)
What type of electricity meter you have in your home (photos below to help you decide)
This information is not essential to completing the survey, but will enable us to get better data, so we would be grateful if you can try and find out the following in advance of seeing us, as you cannot save the survey and return to it later.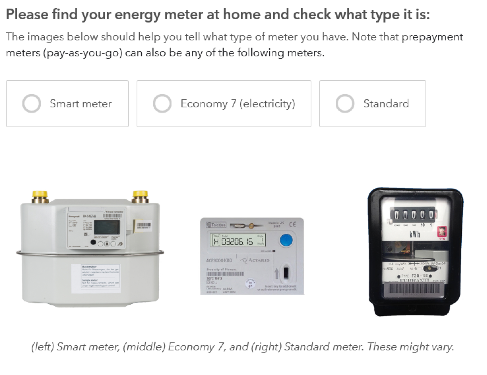 This survey is part of the Rose Hill Smart and Fair Neighbourhood Trial, managed by Low Carbon Hub.
For more information about the survey, contact the Rose Hill Smart and Fair Neighbourhood Trial Project Manager, Mim at mim.saxl@lowcarbonhub.org.uk
---
1 with a cap on a total donation of £1000
2 contact details essential at end of survey to enable us to contact the winner, but will be kept strictly confidential