Springfield Meadows Update
Springfield Meadows Update
Project LEO partners, Low Carbon Hub, were recently in touch with households in Springfield Meadows, where one of our Smart Fair Neighbourhood (SFN) Trials is taking place, to ask for their participation in a study on energy usage.
Our SFN trials are taking place across Oxfordshire to demonstrate how flexibility services can sit at the heart of a smarter, low carbon, locally balanced energy system. In Springfield Meadows, we are looking at ways that rooftop solar on homes in new housing developments can work collectively to deliver a net positive development and mitigate risks to the local network operations.
Making solar panels work for the community
Springfield Meadows is a climate-positive development of 25 homes in Oxfordshire designed and built by Greencore Construction. The homes are specially designed to be energy efficient and to generate their own energy from rooftop solar with the aim of comfortable, sustainable low-cost living for residents.
As part of the trials at Springfield Meadows, Low Carbon Hub are exploring smart solutions to ensure that the unusually large amount of solar PV energy generated by the solar arrays is maximised for the benefit of residents and the local energy network. This involves infrastructure to allow households to sell surplus energy generated from the solar panels back to the grid, allowing them to benefit from the Smart Export Guarantee (SEG).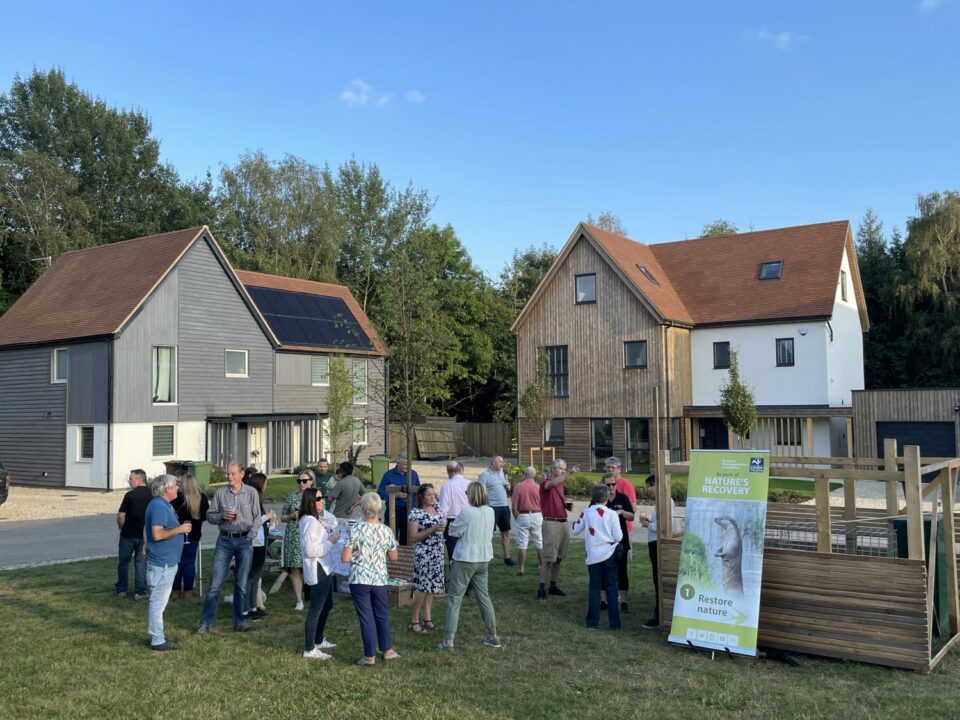 Overcoming the barriers
One of the barriers we are facing is that the development wants to produce more renewable electricity than is currently allowed for, which is preventing some households from exporting surplus generation from their solar systems to the grid network. This means that for the owners of these properties, their solar panels can only be used to meet the demand of the property, preventing their homes from exporting any surplus green energy back to the grid.
Greencore Ltd (the developers) are working diligently to have the existing infrastructure upgraded. However, Low Carbon Hub are also looking at alternative solutions to the issue, which is why they have asked households to participate in this research, with the aspiration to:
Enable the export limitation from the Distribution Network Operator (SSEN) to be amended for those properties that are currently restricted.
Or, should this not be possible, we'll look into how existing or additional energy assets could be used to see if collective optimisation across Springfield Meadows can improve the situation and provide benefits back to residents, including cost savings.
Their hope is to do this while avoiding expensive network reinforcement and increased grid connection charges, so they are working with Power Transition Ltd (PTL) to explore potential solutions for local load balancing and optimisation.
It all starts with collecting as much information as possible, so the team have asked households to agree to take part in a survey to monitor their property's half-hourly energy data to help understand:
If Springfield Meadows generates more electricity than it consumes.
If Springfield Meadows can be optimised collectively to significantly reduce energy import and export.
Ways to increase revenues from flexibility capacity, constraint and demand-side-response beyond money saved from reducing and shifting imports.
We've had a very positive response so far with half of the homes signing up to take part in the study and we will provide an update as to the outcome and proposed solutions when they are available.
A long-term solution to reach net-zero
Low Carbon Hub and Project LEO are interested in helping find a solution for Springfield Meadows because we want to help the residents to get the most from their solar panels.
It will also provide key learnings to inform future housing developments across the UK about new ways to manage the electricity grid.
In particular, it might help us find more cost-effective ways to make our current electricity network do more for us, avoiding costly upgrades and increased energy bills.
In the Springfield Meadows development, we have a real-life situation where we are able to investigate cost-effective solutions that will take us a step nearer to a net zero energy system.
Publication date;
12th August 2022